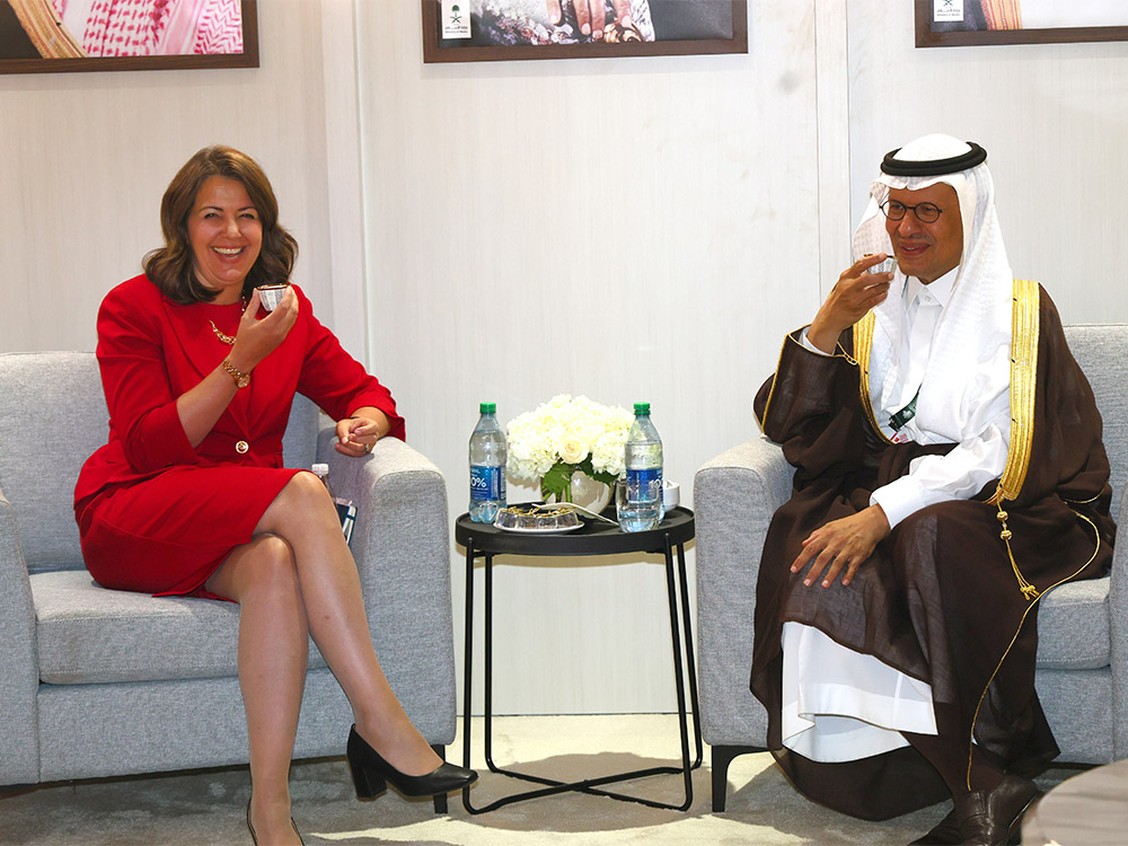 The World Petroleum Congress 2023 took place in Calgary last month. Delegates talked up industry plans for the energy transition. I was outside with the rabble protesting the Congress, so I can't report directly on the proceedings. But I avidly followed news coverage about the gathering, for it helped me understand some recent developments in the oil and gas industry.
CLIMATE, ENERGY AND ALBERTA'S FUTURE
Fossil fuels are damaging our home, our country and the entire world.
It's time to talk about phase-out. It's time to build a new province — an Alberta beyond fossil fuels.
Get phase-out news and analysis delivered straight to your inbox.
By entering your email address, you agree that we will handle your data in accordance with our Privacy Policy.
A host of luminaries attended the World Petroleum Congress 2023, including Alberta and Canada politicians, oil executives, and politicians from oil-producing nations.
What Politicians Said About WPC 2023
Local politicians spoke favourably about the Congress and Alberta's role as an energy producer. Calgary Mayor Jyoti Gondek emphasized the need for energy security, saying "We still have to provide the energy that we are producing to global markets because we are in a global situation of war and it is important that people that are in those nations are able to access energy securely, safely and at an affordable rate."
Alberta Energy and Minerals Minister Brian Jean delivered the customary UCP boilerplate. "Alberta is Canada's energy province. Oil and gas will continue to be a major part of the world's energy mix for decades to come."
Premier Danielle Smith warmly welcomed Saudi Arabia's energy minister, Prince Abdulaziz bin Salman Al-Saud, despite having previously differentiated Alberta's "ethical" oil production from that of the human rights-abusing Saudis. At the World Petroleum Congress 2023, however, she said "One of the things that I think is important is to focus on the things that we agree on. And as the [Saudi] energy minister says, we agree on 85 per cent of the direction that we need to go." 
Smith spoke less kindly of Canada's Minister of Energy and Natural Resources Minister Jonathan Wilkinson, referring to his Congress address as "tone-deaf." She also referred to "an industry that's transitioning away from emissions," focusing on upstream emissions while ignoring the preponderance of carbon dioxide that is created during downstream combustion.
As for Wilkinson, he said "At the end of the day, the cause of climate change is carbon emissions associated with the production and the combustion of fossil fuels. We clearly need to move to largely eliminate the unabated combustion of fossil fuels over the period between now and 2050." Wilkinson also noted the International Energy Agency's recent forecast that oil and gas demand will peak this decade — a position hotly contested by other Congress delegates.
International Energy Agency Forecast
Shortly before the WPC opened, IEA executive director Fatih Birol warned in the Financial Times that peak production was at hand. Birol did not call for a slackening of production on climate grounds. Instead, he simply noted that production was likely to decline all by itself, owing to existing policies. Issuing a teaser for the forthcoming release of the World Energy Outlook 2023, Birol noted that coal, oil and gas demand will all peak in the current decade and go into permanent decline.
Birol believes coal demand will decline due to slackening investments in production and the rapid expansion of renewable forms of power generation. He believes oil demand will decline before 2030 owing to growth in electric vehicles of all sorts, including buses and two- and three-wheelers. Finally, Birol believes gas demand will decline due to the increasing role of renewable energy in electricity generation, the rise of heat pumps, and Europe's accelerated energy transition in the wake of the Ukraine war.
Birol's Financial Times article hit a nerve among Congress delegates. Premier Smith decried the IEA projections as "ludicrous" and referred to the agency as "a political activist organization." Saudi Energy Minister Prince Abdulaziz bin Salman Al Saud said the IEA had "moved from being a forecaster and assessors of market to one for political advocacy." Omar Farouk Ibrahimar, secretary general of the African Petroleum Producers' Organization, said "We know for sure that IEA will say everything it can say in order to scare the world from investing in fossil fuels."
Amin Nasser, the president and CEO of Saudi Aramco, adopted a subtler position, warning that "phasing out conventional fuels too quickly could put global energy and security at risk. As the recent energy crisis has shown, compounded by the conflict in Ukraine, the world wobbles if these realities are ignored or wished away, and the public anger we have already seen could ultimately derail climate ambition and action themselves," he said.
Echoing Nasser's point, ExxonMobil CEO Darren Woods said "If we don't maintain some level of investment in the industry, you end up running short of supply, which leads to high prices and some of the effects that Amin referenced."
Coming from a company like ExxonMobil, which has actively obstructed climate action for decades, that's rich. It's like hearing some mobbed up racketeer say "That's a nice little energy transition you got there. It'd be a shame if something happened to it."
Among industry observers, the rhetorical divide seems to lie between those who, like the IEA, forecast an imminent decline in fossil fuel demand and those who, like Danielle Smith, Amin Nasser, and Darren Woods, talk up the industry's prospects and call for additional investment. I'm curious to know more about this divide. I'll take a closer look in the next few weeks and report back to you.